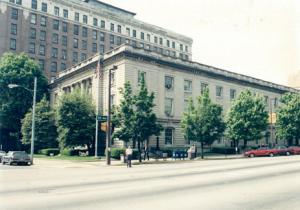 Street Address:
Sidney L. Christie Federal Building
845 Fifth Avenue, Room 336
Huntington, West Virginia 25701
Phone: (304) 525-0375
Fax number will be provided upon request and after approval by the Clerk
Mailing Address:
U.S. Bankruptcy Court
Robert C. Byrd U.S. Courthouse
300 Virginia Street, Room 3200
Charleston, West Virginia 25301
Clerk's Office Hours: Tuesdays, Thursdays, and Fridays from 8:30 a.m. to 4:30 p.m. The office will be closed daily for lunch from 1:00 p.m. to 1:30 p.m.
HANDICAPPED ACCESS to the Sidney L. Christe U.S. Courthouse and Federal Building is located at the 5th Avenue (north) side of the building with the visitor enterance located in the middle of the Huntington facility. A handicapped ramp and automatic doors are located at this enterance. Elevators are available to transport you to all floors within the building. If you are unfamiliar with Huntington and need assistance in accessing this area, please call the Clerk's Office at (304) 525-0375.